I may love to bake, but there are times when I don't want to bake, like when I'm lazy, craving a cold, sweet treat (like ice cream!) or when I don't wan't to melt in my hot Texas house by adding a hot oven to that equation.
Recipes that don't require an oven are always a great idea, and so I found 15 paleo no bake desserts that you'll love!
Click the image of the dessert you like to see the full recipe.
RIDICULOUSLY HEALTHY FUDGE FROSTING:
Uhhh, why is frosting on this list? Because it's eat-off-a-spoon-and-smile "frosting". Yes you can use it to top cakes and brownies, but you can also call it mousse and eat it like pudding!
PEANUT BUTTER AND JELLY ICE CREAM:
My three loves in one: frozen strawberries, sunbutter and ice cream! If you're an ice cream fanatic like me (wait, isn't everyone?) then you'll love to make and enjoy this ice cream in the warmer weather!
RAW BROWNIE BITES BY PALEO GRUBS: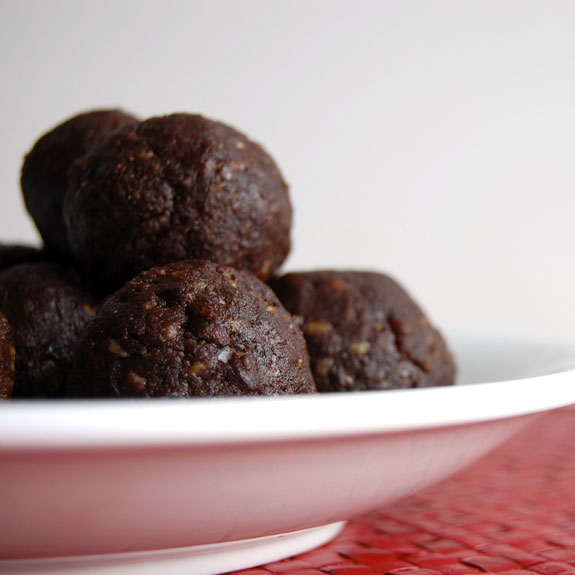 This is a blend and scoop brownie recipe with only 5 ingredients. Right up my alley, and beyond perfect for a quick, no-bake dessert! They'd make a healthy snack for you or for kiddos as well.
NO BAKE PEANUT BUTTER OREOS:
Creamy sun butter filling between two chocolate, no bake cookies. Healthiest oreo, like ever? I think so!
CHOCOLATE COCONUT COOKIES:
These no-bake cookies have gotten rave reviews, from both family members and from blog readers (hey, that's you!). They've been deemed kid-friendly and completely addicting!
LEMON CHEESECAKE BITES BY THE FOODIE TEEN:


Nut-free, paleo AND vegan cheese cake? GENIOUS. This recipe requires only a few simple ingredients, yet results in gorgeous cheesecake bites with a bright lemon flavor.
PEA-NOT BUTTER BANANA ICE CREAM BY VIBRANT LIFE ARMY WIFE:


How do you make creamy, two ingredient banana ice cream even better? Add sunbutter! This three ingredient dessert is as simple as it gets.
MINT CHOCOLATE FUDGSICLES:
Creamy fudgsicles with a bright mint flavor and chocolate coating. The mint-flavored pops are so good (like a shamrock shake in Popsicle form!) you honestly don't even need the chocolate coating! But of course, extra chocolate is never a bad idea.
STRAWBERRY ICE CREAM BON BONS BY A GIRL WORTH SAVING:
Mhmmm .. This is one I HAVE to try! These frozen bites of strawberry banana ice cream are incredibly simple, healthy and creative!
CHOCOLATE CASHEW BUTTER CUPS BY THE MOVEMENT MENU:


Ever wonder how to make a sophisticated peanut butter cup? With cashews, macadamia nuts, pistachios and melted dark chocolate, these are a grown up, healthy version of a nut-butter cup. They may require a little more effort than other no-bake desserts, but the beautiful chocolate candies you get are well worth it!
MANGO KEY LIME CHEESECAKE BY PLAID AND PALEO:


This recipes kills me every time I look at it. And that's in a good way FYI. The sweetness of mango combined with the tartness of key limes, all inside of a silky cashew cheesecake. But what I want most of all is that mango mousse that sits on top! Unlike some dairy-free cheesecakes, this cheesecake can stand at room temperature without melting for 4 hours!
CHOCOLATE CHIP COOKIE BITES BY COOK IT UP PALEO: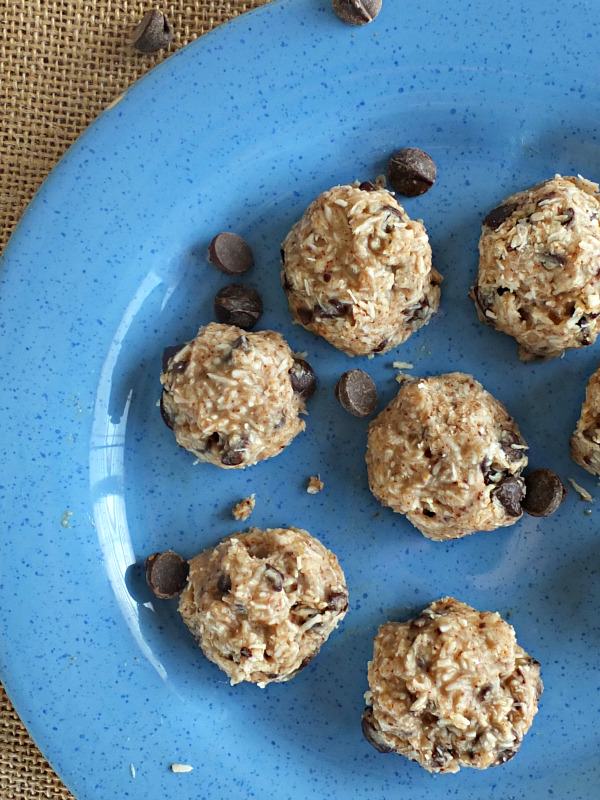 Heeeey, 5-ingredient, no bake chocolate chip cookies! Whaaaa?
SALTED CARAMEL CHOCOLATE RASPBERRY CHIA PUDDING BY PALEOMG:
This is chia pudding like I haven't seen before … Caramel? Chocolate? Raspberries? Yes pleeeease. If there was ever a time for my chocolate-allergy to kindly disappear, it would be now!
CHOCOLATE FUDGE FRIDGE CAKE BY GOURMANDE IN THE KITCHEN:


Chocolate fudge fridge cake? Oh man. Just the name itself sounds heavenly! This "cake" is packed with almond, coconut oil, cocoa powder and raspberries (yes, more chocolate and raspberry love!) AND it can be made it 5 minutes! And as an added bonus, this cake comes out looking just as divine as the name sounds.
SPICED CARROT COCONUT TRUFFLES:
Throw all the flavors of that carrot cake into an easy truffle. These are loaded with all things healthy, like carrot, coconut, dates and walnuts. They're healthy enough to be enjoyed as a light dessert or a sweet snack!